Arduino Coding

Help By CS Experts
If you are looking for the best online help with Arduino code then you have landed on the best platform to get online Arduino coding help. Our programmers will go through every single guideline and write a well-structured, relevant, and clean coding assignment/homework for you so that you can get maximum grades.
Different students have different reasons for asking online help with Arduino code. Some of the common reasons why students ask our help includes - not having enough knowledge of the subject, less time to complete the work or not able to do Arduino code. No matter what your reason for taking online Arduino coding Help our programmers are always there to help with Arduino code for you.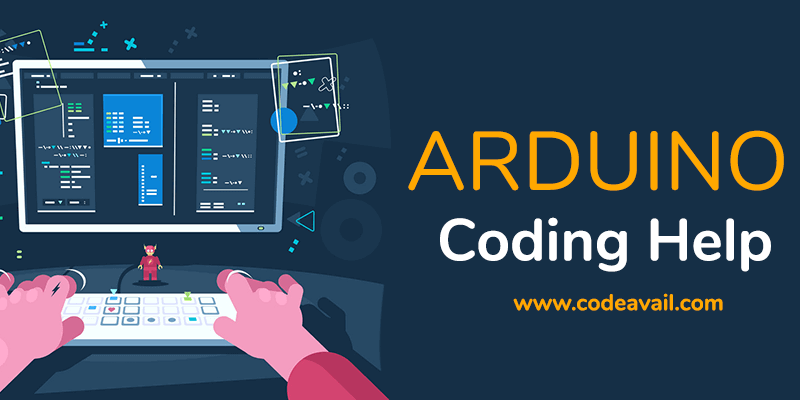 What Is Arduino?
It is an open-source electronic stage used for making electronics projects. With software and hardware to create, design, and test the collection of electronics items. The hardware includes a microcontroller with different other electronic parts which can be programmed by using the software to do any task practically. Because of its simplicity, the Arduino language is exceptionally simple almost for everyone who has a passion for electronics to write programs without the understanding of complicated codes and calculations. It has specifically designed boards that can be programmed by using the Arduino Programming.
Arduino Applications:
Some of the commonly known Arduino applications cover:
OpenEVSE: An open-source Arduino based electric charger
Ardupilot: An Arduino based drone hardware and software
XOD: A visual programming language for Arduino
Arduboy: Arduino based gaming console
What Makes An Arduino?
Arduino contains several interface parts and that form an individual circuit board. The design has undergone many changes with many components that are added up. On a basic board, you would be finding the following pieces:
Pins: Pins to connect to different components that one wants to use with Arduino. There are two kinds of pins:
Digital pins: There are different types of Arduino available and each kind has 14 digital output and input pins. These pins enable you to write and read and from a particular state.
Analog pins: This will read different values and are helpful for fine-grained control. Analog pins have 6 pins which are organized in an appropriate pattern.
Power connector: This provides power to both devices and would provide less voltage with which you can lit sensors and LEDs. However, if they run on low voltage then only you can run them. The power can be connected to an AC adapter or a battery.
Further components: Several other components make an Arduino. These include – voltage regulator, oscillator which supports the main purposes of the board.
Serial connector: It's a connector with the help of USB ports several of the standard boards are performed. This connector will provide smooth communication build between the computer and board besides loading new programs to the device. When Arduino is equipped with a USB port, then it's not necessary to have a different power connector.
Microcontroller: To execute commands and take the best-received input based decisions Microcontroller will program Arduino. The chip depends on the type of Arduino.

Why Choose our online Arduino coding help?

There are several reasons why most of our customers come back to us for their Arduino coding help. If you are visiting our website for the first time then here are some of the reasons why you choose our service.

Writer expertise: When it comes to providing the best solutions to our customers that help you get perfect scores, our specialists are the best. We have highly experienced Arduino programmers who have years of experience working on Arduino projects and programming. With this knowledge and experience, there is no doubt that any problem regarding your assignments handled by them won't be turned into A.
Clean Arduino code: We have a reputation for writing professional code that is well organized and thoroughly explained. This makes it simple for beginners also to understand the basics of the code. Before submitting Arduino code solutions, we test and debug to make sure whether it is meeting the requirements of your assignment.
100% Plagiarism free solutions: All our code and projects written by our Arduino programmers. There is no chance of getting plag in your assignment. By getting online Arduino coding help from us, you can be sure that what you end up with is actual. Every assignment is checked through plag free software.
On-time delivery: On-time delivery of customers' requests is our major reason which makes our service best from others. We know the value of the time and we are fully aware when it comes to delivering assignments and projects.
Reasonable pricing: The price of our online Arduino coding help service is pocket-friendly because we know the value of money and that's why even an average student can enjoy our service. we understand how hard it is for students when it comes to managing money and this is why we make our prices as affordable as possible.
24/7 availability: We are available round the clock whenever you need our help no matter where you are you can reach us through email, chat or call. We are always ready to get started on your work.

Please submit your Arduino coding Assignments along with the deadline. With our dedicated approach, we assure you the highest grades in all your submissions with us. You can contact us through email [email protected] or submit your work at Submit Work.

Are You Struggling for online help with Arduino code?

If you are struggling with Arduino Coding Help, you just required sharing your online assignment requirements with us. A complete explained Arduino Coding Assignment Solution will be uploaded to your secure assignment account with us.