Zabbix

Assignment Help By CS Experts
Table of Content
Zabbix is the term that is generally used in the Information Technology area. Zabbix is normally a source of monitoring software that involves different services like cloud services, networks, servers, virtual machines, etc. Zabbix is now one of the most common topics in the Information Technology field thus students in universities/colleges and schools are asked to make assignments on Zabbix. There are many students who are not familiar with Zabbix thus they find it difficult to perform their tasks and then they start searching for online Zabbix assignment help. We have qualified professionals and tutors who provide the best assistance with Zabbix essay assignment writing help. Zabbix is a very broad topic in the information technology field thus students might not maintain all the information related to this. By taking help from us, writing skills and content quality of your assignment will be definitely enhanced.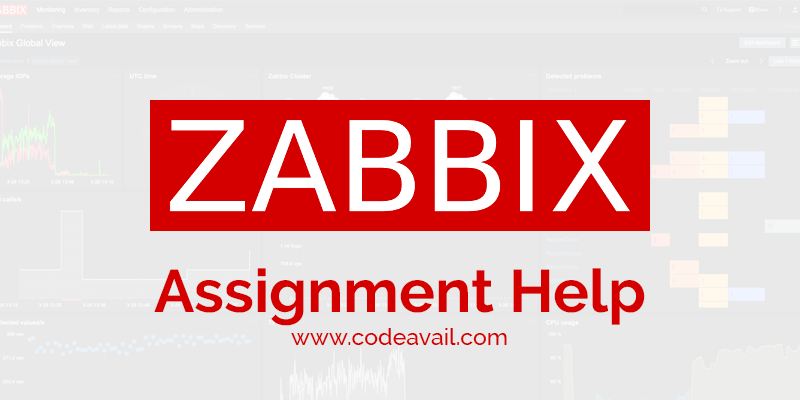 What is Zabbix?
It is an open-source monitoring software tool used for different information technology components, including cloud services, networks, virtual machines (VMs) and servers. Zabbix gives monitoring metrics, with other network utilization, and CPU load. The monitoring Zabbix configuration can be performed utilizing XML on the basis of templates that include elements to control. The software monitors operations on Mac OS X, Linux, Solaris, Hewlett Packard Unix (HP-UX), and other operating systems; however, monitoring of Windows is only possible through agents. Zabbix can use PostgreSQL, MySQL, SQLite, MariaDB, Oracle or IBM DB2 to store data. Its web frontend is written in PHP and the backend is written in C.
Significant Features of Zabbix:
One of the Zabbix's main features is that it can be installed on any of the PCs or computers whether it is UNIX or windows.
Zabbix keeps an eye on statistics of your monitor and guarantees that there is no CPU load and improves disk space and network.
Accessibility and responsiveness and of HTTP and SMTP services are checked through Zabbix without using any extra software.
Zabbix supports extensible messaging and presents protocol which is one of the real-time notification toolbars. Zabbix can also help monitor statistics through TCP, SNMP, ICPMchecks. These checks are normally known as internet protocol suites.
Why students seek for Zabbix assignment help?
Here are some important reasons why students want to get help regarding Zabbix assignment:
Not having enough Zabbix knowledge: In the field of computer science, there is so much software that is useful to complete difficult and large tasks in a few minutes even very easily. Many students have only a piece of knowledge about the Information technology field, but they don't know how to use them; therefore, they look for Zabbix assignment help.
Lack of problem-solving skills: Sometimes students don't have sufficient knowledge of Zabbix programming, and they also have a lack of skills in problem-solving. They don't know how to solve Zabbix programming questions quickly that's why they look for Zabbix assignment help.
Zabbix assignments are not easy. The question that teachers give to students in Zabbix assignments is very typical and complicated. Most students even don't understand what the question exactly is? So they look for Zabbix assignment help.
Not having enough time: The professors who assigned students with Zabbix assignments also give them a time limit for completing it and submitting it. Sometimes it becomes difficult for students to complete their assignments before the deadlines so they try to get excellent assignment help.
Lack of knowledge of spreadsheet: For making a successful Zabbix assignment, one should require to have sufficient knowledge of Zabbix spreadsheets. Many students don't have enough knowledge of spreadsheets to complete their Zabbix assignments. So they try to take experts to help with Zabbix assignment help.
Reasons for choosing our Zabbix assignment help service
Here are some of the reasons why students take our assignment help service:
Experienced writers: We have a team of experts. Every expert is well qualified, with Ph.D. or any other master's degree. They are working for the last many years in the same field. So Don't worry about the quality of your Zabbix assignment because they will deliver the best quality assignment to you.
Delivery Time: Our experts are working day and night so that they can easily complete your Zabbix assignments before deadlines. We well know that students are required to complete their Zabbix assignments before the deadlines, so we always provide your completed orders before the deadlines.
100% satisfaction guarantee: We always provide our customers with a 100% satisfaction guarantee. We promise you that we always provide you the best services. So you feel satisfied with our services whenever you choose us.
Round the clock customer support: As we already discussed that our experts are working on different shifts day and night. So feel free to contact us anytime and from anywhere in the world as our experts are available for providing Zabbix assignment help 24*7 hours.
Cheap prices: We are offering you the best assignment help services at very affordable prices. We well know the situation of students; they don't get much money from their parents as their pocket money. Therefore they have to manage all their educational expenses with that bit of money. So we designed our services so cheap that anyone can use them.
Step-by-Step solution: Our experts will also provide you the step-by-step solution of all your Zabbix assignment problems. It does not matter that in which stage of your assignment you are, you can get a solution to all your problems in one place.
Completely plagiarism-free content: Plagiarism is banned in our services. We don't support any type of plagiarism. We provide you complete plag-free Zabbix assignments. Even our every expert is in a habit of working with 100% original content. Every assignment is checked through plagiarism-free software so that the end report you get is completely plag free and uniquely written.