Here in this blog, CodeAvail experts will explain to you how to study for the exam in the best way. To score higher understand these points or steps to study better for the exam.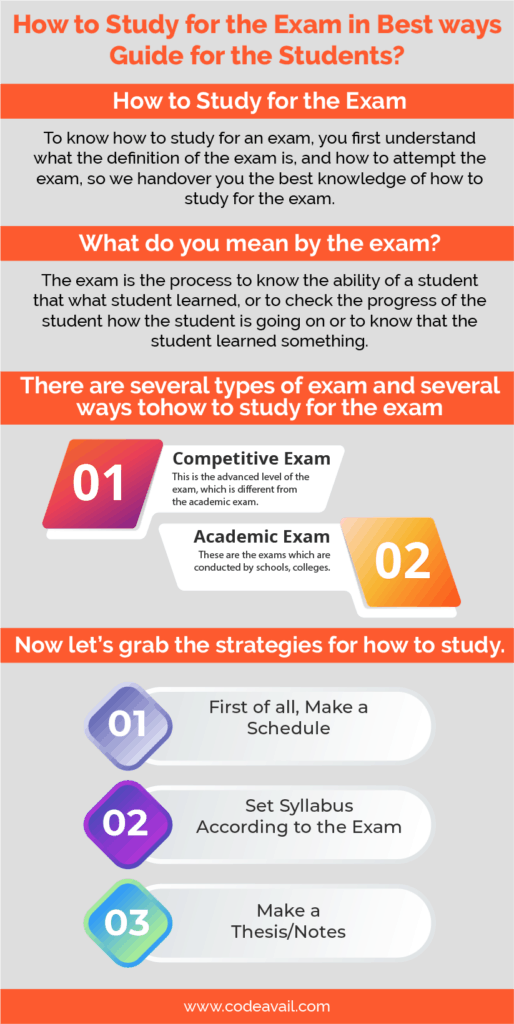 How to study for the Exam
"Practice makes the man perfect."
To know how to study for an exam, you first understand what the definition of the exam is, and how to attempt the exam, so we handover you the best knowledge of how to study for the exam. Some students think that giving exams is stressful. Don't get worried; we are always there for you to aid you.
What do you mean by the exam?
The exam is the process to know the ability of a student that what student learned, or to check the progress of the student how the student is going on or to know that the student learned something. We conclude these all things about the student performance, how the student is going on, and make changes about those students who do not do it well.
There are several types of exam and several ways to how to study for the exam
Types of exam
Competitive exam
Academic exam
Competitive exam:
This is the advanced level of the exam, which is different from the academic exam. In this type of examination, various organizations have different exam patterns and syllabus. In this, the students have to search for some good institutions for better preparation. So to study for the competitive exam, you have to follow the different study strategies.
Multiple choice questions.
Different types of different topics writing.
These exams are conducted in the form of optical mark recognition (OMR) examination or computer-based examination.
Academic exam:
These are the exams which are conducted by schools, colleges, and universities in different manners. This student makes efforts to get good scores in the examination for good merits, and every school, colleges, and universities have different ways to conduct examinations and different syllabus.
Now let's grab the strategies for how to study.
1. First of all, make a schedule:
For the preparation of an exam, you first have to schedule the time table on which you have to work. It makes your daily work well planned and creates a different plan for your exam day. So first make the time table according to your daily work, keep in mind while you are going to study, keep your mind free and then start the study, so before the study, you may add some playing activities or listen to songs. It will make your mind fresh. In this, the students have to search for some right institutes for better knowledge.
2. Set syllabus according to the exam:
So you have to search the syllabus of the exam for which you have to study, or you can collect the syllabus book late from your academic section. Every subject has its syllabus booklet where everything mentioned about, what you have to study for your exam every topic was discussed there in syllabus booklet, so it makes it easy for you to know what you want to consider for your exam and which topic is necessary for your exam.
3. Make a thesis/Notes:
So when you are ready to study, check out your syllabus and make sure which subject you have to study. For better and effortless learning, we are telling you a trick on how you can grab good marks in your exam. So, first of all, choose some critical topic which helps you to score good marks.
Read that topic and make some notes, and mark some important outline which helps you at exam time. Because while you are writing the exam, you will remember the full description by points you mark as the outline.
If you are not getting the excellent matter from academic books, you can use google for deep knowledge of your subject. And mark useful data and do the thesis of that, while studying make notes which help you at exam time during revision.
These above points help you to learn how to study.
Some key points to remember
Make notes while studying.
Use the appropriate format to attempt the exam.
Revise your notes sometime before the exam.
Do not take stress while writing exams.
Practice an old exam.
Some interesting brain hacks how to study
Walk Before An Exam
Speak Loud Instead of Simply Reading
Reward Yourself With A Treat
Teach What You Have Learned
Create Thoughtful Relationships
Draw Diagrams
Search Google Like a Pro
Create Flashcards for Quick Memory Buzz
Take Regular Study Breaks
Don't Study All Night Before an Exam
Discover New Ways to Learn
Best Study Habits
Pre-Class Habits
Read through the chapter
Take Notes
Organize
Talk to your professors
During Class Habits
Listen
Ask Questions
Add onto your own Notes
Sit up Front
After Class Habits
Review
Re-organize
Re-Read
Teach others
Make Notes of what you don't know
Different Strategies:
Strategy 1:
1.Study new matter early in the day:
Why? For the students, your brain's best performance happens 2-4 hours after you wake up.
When? If you wake up at 6, your best times are between 7 and 9.
What are the extra benefits? By doing your hard work at the beginning of the day your brain allows you to focus solely on the problem at hand, with less distracting, less input from your environment, and with a lot of energy you've gained from a comfortable night.
2.Use a timer to be more productive:
How? Use a timer to better manage your study. This way allows you to focus your brain in a more targeted and effective way. Don't try to cram everything for hours.
What about practicing exam questions? Use the revision questions in your textbook or given by your professor or lecturer. Write them on paper. Give yourself only some time to answer each question.
What about taking a break? You should take not one, but many breaks.
3.Get some exercise then:
Why? Exercise is necessary to increase memory, but time is important for this. Scientists found that those who exercised four hours after their study session maintained better information a few days later than those who did not exercise immediately after studying or those who did not exercise.
What's the science behind it? your subconscious mind an area of the brain that is important for learning and memory.
How? you can do new interesting and entertaining things and Take a walk.
Strategy 2:
The ANSWER Method
Ask, Explain & Connect
No Cramming
Switch
Words & Visuals
Examples
Recall What You Know
Also, read…
How to do my assignment | Good Assignment Writing Tips
Where Can I Find Trustable Programming Homework Helper?
How to do Homework Fast | Best Tips to Do your Homework
How to Get Good Grades in Exams Tips by Experts
Conclusion:
Every student thinks that he/she will perform very well in exams so you can take help from our how to study for the exam, we share the sophisticated strategies with you so you will perform better in the exam.
We hope you will use and get a high score on your exam. Apart from this, if you have any queries related to this, you can contact any time with our experts.